Diagramming. Project planning. Outlining. Task management. For several years, the Omni Group's highly-acclaimed suite of productivity apps has been helping people put their iPads to work—and we're very pleased to announce that we're bringing the entire suite to iPhone.
All of Omni's currently shipping iPad apps will be updated to be Universal apps, designed to feel at home on both iPad and iPhone. If you already own any of our current iPad apps, you will soon be able to use them on your iPhone at no additional cost.
What about OmniFocus for iPhone?
Since all of the apps in the Omni Productivity Pack will run on both iPad and iPhone, there will no longer be any need to purchase a separate app just to run OmniFocus on iPhone. The price for the new Universal app will be just $39.99 (a savings of $9.99 compared to the current two-app pricing for customers using OmniFocus on both devices)—and it will be a free upgrade for anyone currently using OmniFocus 2 for iPad.
Customers who want to upgrade from the iPhone app to the Universal one can simply pay the difference in the prices by taking advantage of a $20 Complete My Bundle option we'll make available. Of course, we'll continue to update OmniFocus 2 for iPhone, but Pro features such as custom perspectives will only be available in the Universal app.
We really appreciate the early support from those of you who have already purchased OmniFocus 2 for both iPhone and iPad. To show that appreciation in a concrete way, we will be offering a $10 USD* rebate once the Universal app has shipped so that you won't have paid any more for the two apps than someone who buys the Universal app.
Payable in USD via check or Paypal, from a US bank.
Posted by Ken Case on 8 January 2015 | 6:20 am
Hi, all! Once again, it's the time of year when I like to review our previous year and to share our plans for the upcoming year—not because I can predict the future with 100% accuracy (as the review often shows!), but because I think it's important to talk about where we think we're headed so that you can make decisions about whether you want to join us on our journey.
I'll be sharing our plans for 2015 in a moment. But first, let's take a look back at where I said we were headed last year. I said that we would ship major upgrades to the Mac editions of OmniOutliner and OmniFocus, continue to work on making our apps accessible, and redesign the remaining apps in our iPad line-up (which were looking rather dated on iOS 7 next to the apps we updated in 2013). I'm very pleased to say that every one of those goals were met in 2014: we shipped OmniOutliner 4 on January 15, shipped OmniFocus 2 on May 21, and then (even with the surprises we've now come to expect from Apple's developer conference in June) we shipped redesigned versions of OmniFocus for iPad and OmniGraffle for iPad on September 18 (the day iOS 8 launched). I should note that these new iPad apps weren't just redesigns: both apps now offer significantly more functionality with their Pro upgrades. OmniFocus can now build custom perspectives on the iPad for the first time ever, while OmniGraffle can now import and export documents from Microsoft® Visio® 2013, perform shape combinations, and edit custom data on shapes.
I'm also very pleased to note that we were also able to offer upgrade discounts to every customer who had previously purchased any of these apps from the App Store—an issue which had been a very big concern for us in 2013, but which we finally resolved when we introduced Pro Upgrade discounts with OmniGraffle 6 on the Mac App Store.
We also continued to work on making our apps more accessible, and we published more and more free e-books with approachable, in-depth explanations of our apps—books which were downloaded from the iBooks Store over 84,000 times in 2014.
So the good news is that 2014 went pretty much as planned! Though that's not to say that the year didn't bring some surprises. We'd barely had a chance to ship OmniFocus 2 for Mac when we suddenly found ourselves on the receiving end of a firehose of information from Apple about iOS 8 and OS X Yosemite. But we were able to respond quickly: the day iOS 8 shipped, OmniFocus for iPad and iPhone were both ready with two new extensions: a Today extension which made it easy to see your day at a glance without opening the app, and a Sharing extension for easily capturing content shared from other apps. We also added interactive notifications, so you could quickly complete or snooze an OmniFocus reminder without having to open the app.
With iOS 8, Apple also updated the App Store to support app bundles which can be purchased together for a discount. So we now offer an Omni Productivity Pack bundle of all our iPad apps—which saves customers 12.5% when they purchase all four apps, very much like the bundle discount we've long offered on our own online store. (Sadly, app bundles are not yet available in the Mac App Store—we hope that changes soon!)
All of the above makes it sound like we were ready and relaxed on the day iOS 8 shipped—but, of course, the reality is a little more complex than that. Just days before iOS 8 shipped, Apple had yet another surprise to spring on us: iPhone 6 would come in two new sizes, the 6 (with more screen space than ever) and the 6 Plus (even more space!).
We didn't have time to worry about all of those announcements that week, because that was also the day Apple gave us the final SDK and we were already scrambling to submit all our iOS 8 updates so they would be available on the day it shipped.
But we turned our attention to iPhone 6 as quickly as we could, and adapted OmniFocus to work at those larger sizes. (This effort seems to have been well-received: this week it's featured by Apple as one of 20 "Great Apps for iPhone 6.")
There is a lot more I could talk about—for example, we also shipped a free major update to OmniGraffle 6 (check out the video!) which brought back detachable inspectors and added new fill effects, new stroke and shadow types, and Visio 2013 support—but this post is already getting pretty long-winded and I know you're eager to learn where we're heading next.
So I'll just note that the year ended well: we were very pleased to see Apple list OmniFocus 2—for both Mac and iPad—as two of the App Store's Best of 2014. And we were also very honored when iMore inducted us into their Hall of Fame.
So, what's next?
Well, adapting OmniFocus to those larger iPhone 6 screens got us thinking… It's time to make OmniFocus for iPhone just as capable as OmniFocus for iPad is, bringing over all those features like Review mode and the ability to build custom perspectives. In fact, we think it's time to go further than that, and bring all the functionality from all of our iPad apps over to iPhone—so I'm pleased to announce that the entire Omni Productivity Pack is coming to iPhone. (Some of the apps are already in TestFlight; please let us know if you'd like to help test!)
Yosemite brought a new look and feel to the Mac, so we'll be updating all of our Mac apps to fit in well there. We started this process last year with OmniGraffle 6.1, but we'll also be updating OmniFocus and OmniOutliner and OmniPlan. Yosemite also brought support for extensions similar to those on iOS 8, so we'll be adding Today and Sharing extensions to OmniFocus for Mac when we update its interface.
While we've already adopted a number of iOS 8 features, one area we haven't really touched yet is its support for iCloud Drive and third-party storage provider extensions. At a bare minimum, we'd like for all of our document-based iPad apps—er, I mean iOS apps—to be able to import and export documents from iCloud Drive or Box or anywhere else that provides a storage extension. We'd also like to ship a standalone OmniPresence app for iOS which provides its own storage extension to let you store documents from other apps on your own WebDAV server.
OmniPlan for Mac has long had the ability to import and export Microsoft Project documents, but that support has fallen slightly out of date over time. We'll be updating OmniPlan to support documents created by Microsoft Project 2013, and we'll also be bringing that support (both import and export) to the iPad app. (Er, I mean the iOS app! Clearly this move to having all our apps run on both iPhone and iPad is going to take some getting used to.)
OmniFocus 2 has been very well-received—setting a sales record in 2014—but in no way does that mean we think it's finished! We've been listening to your feedback, and we will continue to update the app to make it sync more responsively, to be easier to scan visually, and to be more efficient to use.
Beyond all that, well, I'm sure Apple has more surprises coming at us again this year. I'm looking forward to seeing what they turn out to be! We'll try to be as responsive to them this year as we have been to surprises in previous years.
As always, please keep in mind that this is a snapshot of our current direction, not a commitment to arriving anywhere on a particular schedule. Reliably predicting the future in that way is impossible—but I'm always happy to share which way we're headed!
Thank you all for an incredible 2014. Though we've been in business for 22 years (self-funded since 1992, when Ross Perot was in presidential debates with Bill Clinton and George H. W. Bush), this year not only brought new sales records for OmniFocus and OmniOutliner, but also set a sales record for our company overall. We're very pleased to be able to set some of that profit aside for future needs while sharing some among our team.
We still have a lot of work ahead of us, but my hope is that 2014's success is a sign that we continue to be on the right track—because we certainly can't do any of this without your support! Thank you again.
(Feedback? I'd love to hear from you! You can find me on twitter at @kcase.)
Posted by Ken Case on 8 January 2015 | 6:17 am
Are any of you interested in helping us test our apps before they're ready to submit to the App Store? We're working on bringing all of our iPad apps to the iPhone, so we have a lot of testing to do! And with Apple's new TestFlight Beta Testing program, we're able to invite up to 1,000 of our customers to test our apps while they're still under development.
If you're interested in helping us, please send email to testflight@omnigroup.com letting us know which iOS devices you use, which version of iOS 8 are installed on each, and which Omni apps you're looking to test. For example, you might write something like this:
Devices: iPhone 6 Plus [iOS 8.1], iPad Air 2 [iOS 8.1]

Apps: OmniFocus, OmniGraffle, OmniOutliner, OmniPlan
It would also be helpful to know which of our apps you already own and how long you've been using them, so we can get a wide range of customer experience for each app in addition to a wide range of test devices.
P.S. — If anyone reading this is looking for a paid position in Seattle working as a full-time tester, please check out the Software Test Pilot opening currently posted to our jobs page!
Posted by Ken Case on 7 November 2014 | 3:01 pm
UPDATE: On September 26th, OmniFocus 2 for iPad "expired"—it shipped with our test build expiration still in place. Version 2.0.1 was submitted that Friday to fix the issue, and was approved Saturday afternoon. The full timeline of events is available here.
---
How times change! When we introduced OmniFocus for iPad in the Summer of 2010, it was widely considered to have the best, most modern design of the three OmniFocus editions. So much so that when we set about building OmniFocus 2 for Mac, our top priority was to bring the design lessons we'd learned from the iPad app back to the Mac app.
But then Apple inspired us with iOS 7, and our priorities changed. We completely redesigned OmniFocus 2 for iPhone, then OmniFocus 2 for Mac. We started getting rave reviews for these new designs—and now, instead of constantly getting questions about how soon we would make the other editions match OmniFocus for iPad, those questions flipped to ask when we were going to update the iPad app to match the new designs in the other apps.
I'm very pleased to announce that the long wait is over—that (for the first time!) all three editions of OmniFocus have the same design language: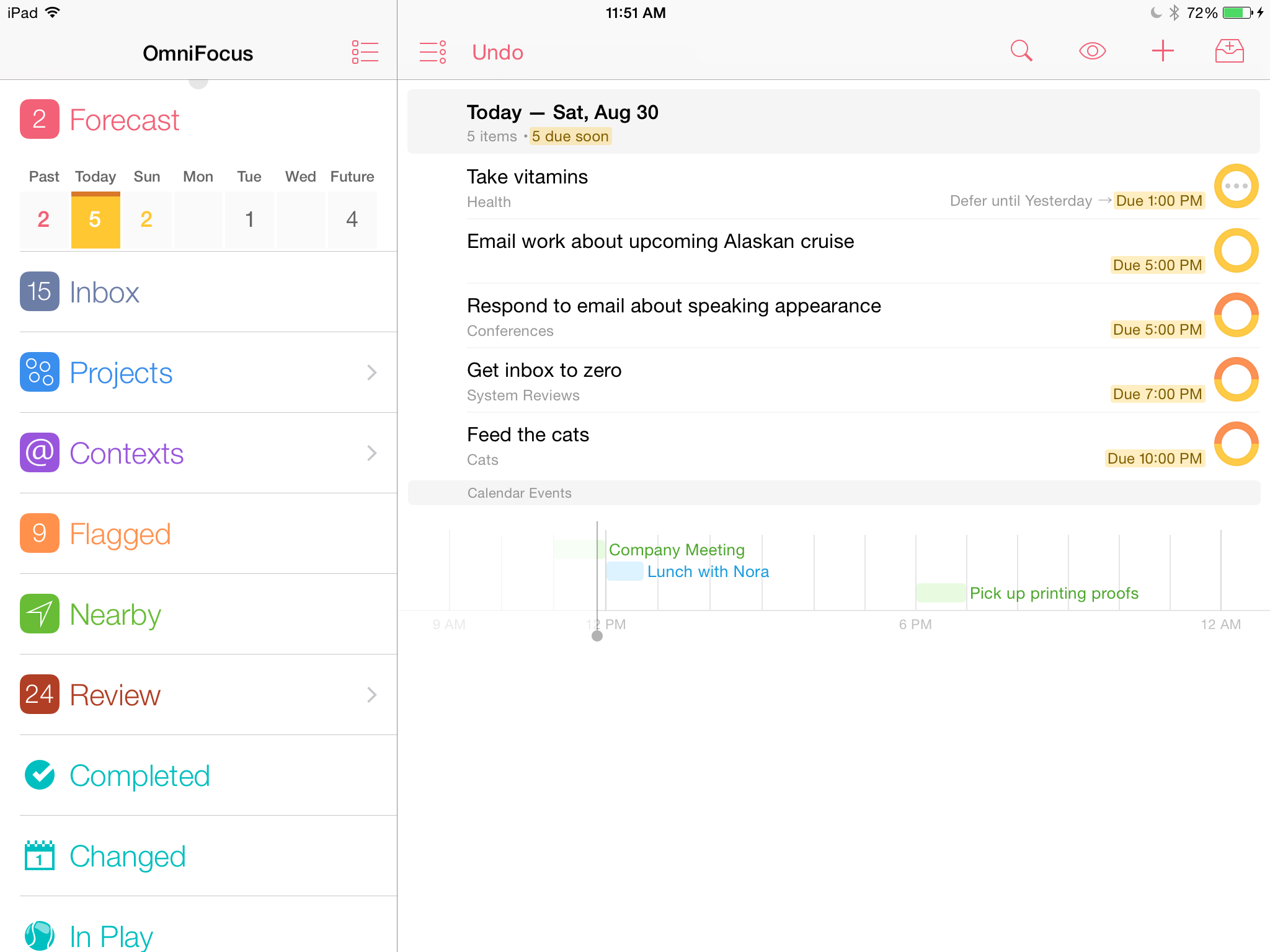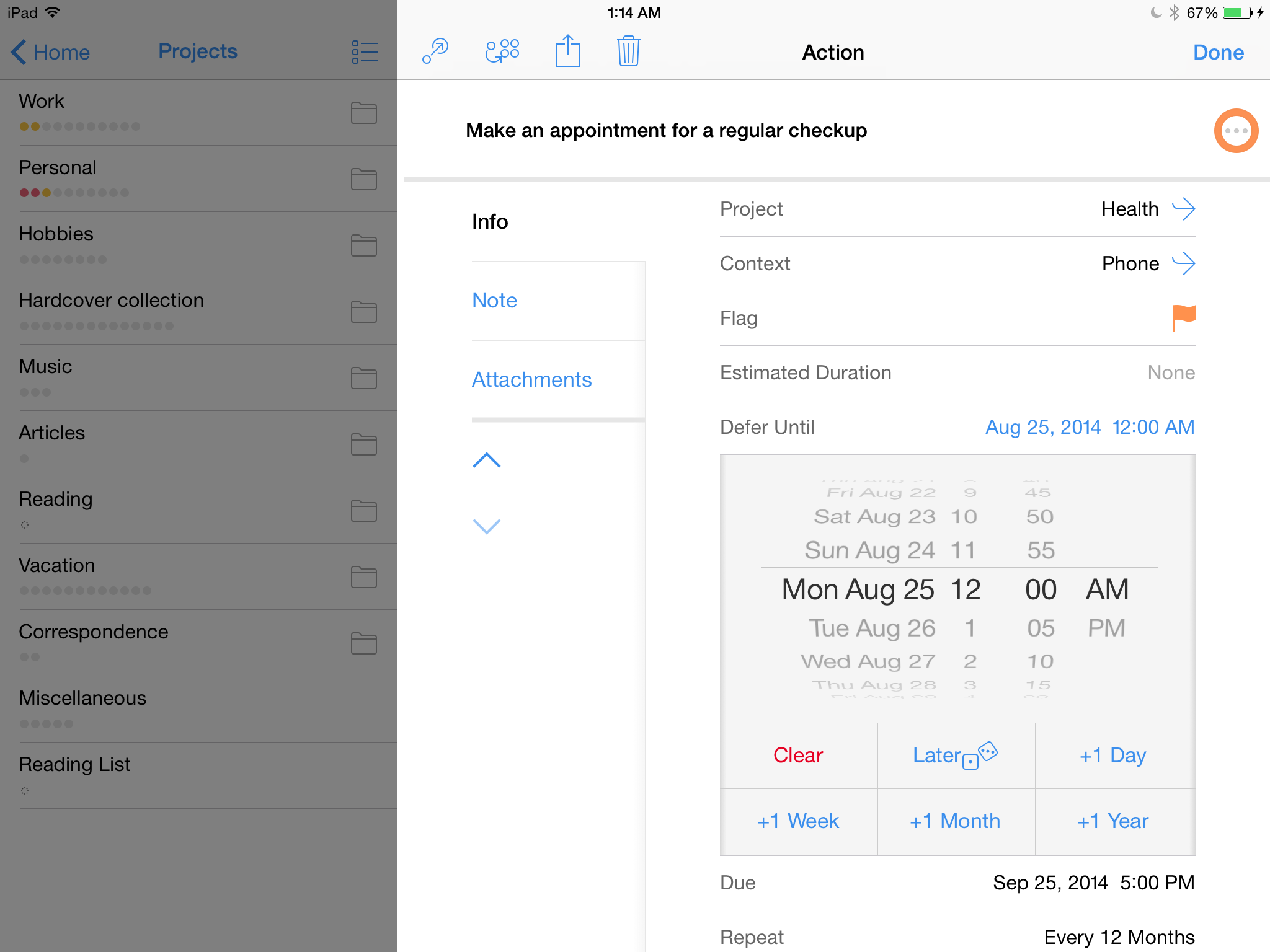 Beyond its new design, OmniFocus 2 for iPad offers two great new iOS 8 extensions, interactive notifications so you can immediately complete or snooze a reminder, improved searching, and background syncing. And, of course, all of the great features pioneered in the original iPad app, such as the built-in Forecast and Review perspectives.
It's a great upgrade—but we didn't stop there! On the Mac, one of the features we offer in the Pro version of OmniFocus 2 is the ability to go beyond the built-in perspectives by creating your own custom perspectives. Customers have often asked if we would ever provide similar capabilities for iOS, and I'm pleased to share that we've finally done just that, in the optional Pro upgrade to OmniFocus 2 for iPad: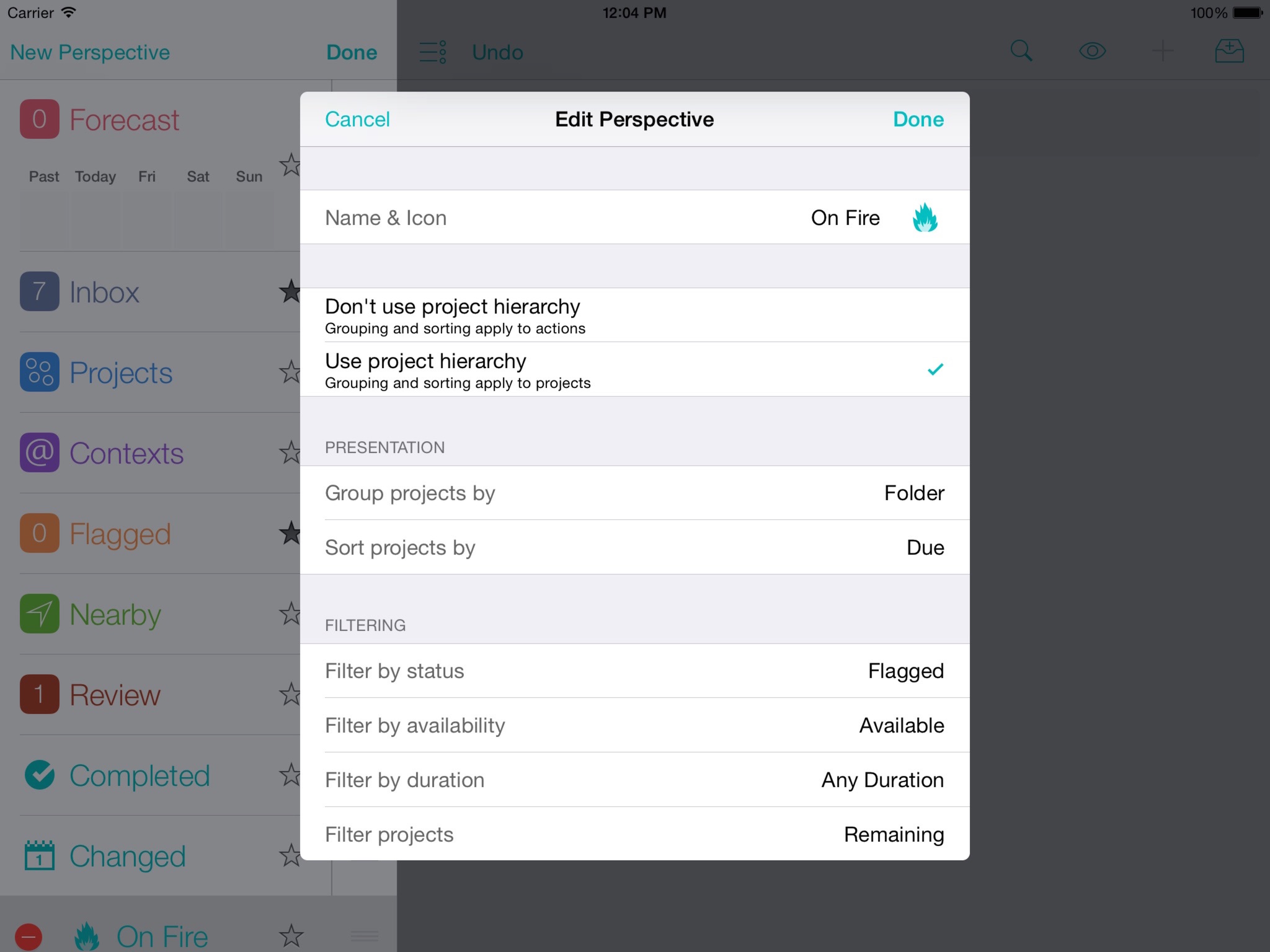 With Pro, you can create your own combinations of view settings, searches, and filters to see your work in exactly the right way. You can also arrange the top-level sidebar however you like, for quick access to your favorite perspectives.
Whether or not Pro is for you, we know you'll enjoy all of the other new features OmniFocus 2 has to offer! OmniFocus 2 is now available for just $29.99, and its Pro upgrade is now available as an optional in-app purchase for $19.99.
For those of you who purchased the first version of OmniFocus for iPad, we have a very special deal: we appreciate the support you've given us through the years, and we're showing our appreciation in a very concrete way by giving you the $19.99 Pro upgrade for free when you purchase version 2. Thank you for your support through the years!
Posted by Ken Case on 17 September 2014 | 1:19 am
Last summer Apple introduced a completely new design for iOS 7, and when they shipped iOS 7 in Fall we were ready with three new apps: OmniFocus 2 for iPhone, OmniOutliner 2, and OmniPlan 2. With that work done, we turned our attention back to our Mac apps where we had several major updates to ship: OmniGraffle 6, OmniOutliner 4, and OmniFocus 2. Unfortunately, that left the last two of our iPad apps—OmniFocus and OmniGraffle—looking rather dated next to our other apps!
Well, I'm very pleased to announce that OmniGraffle 2 has now been completely redesigned to match the modern look of iOS: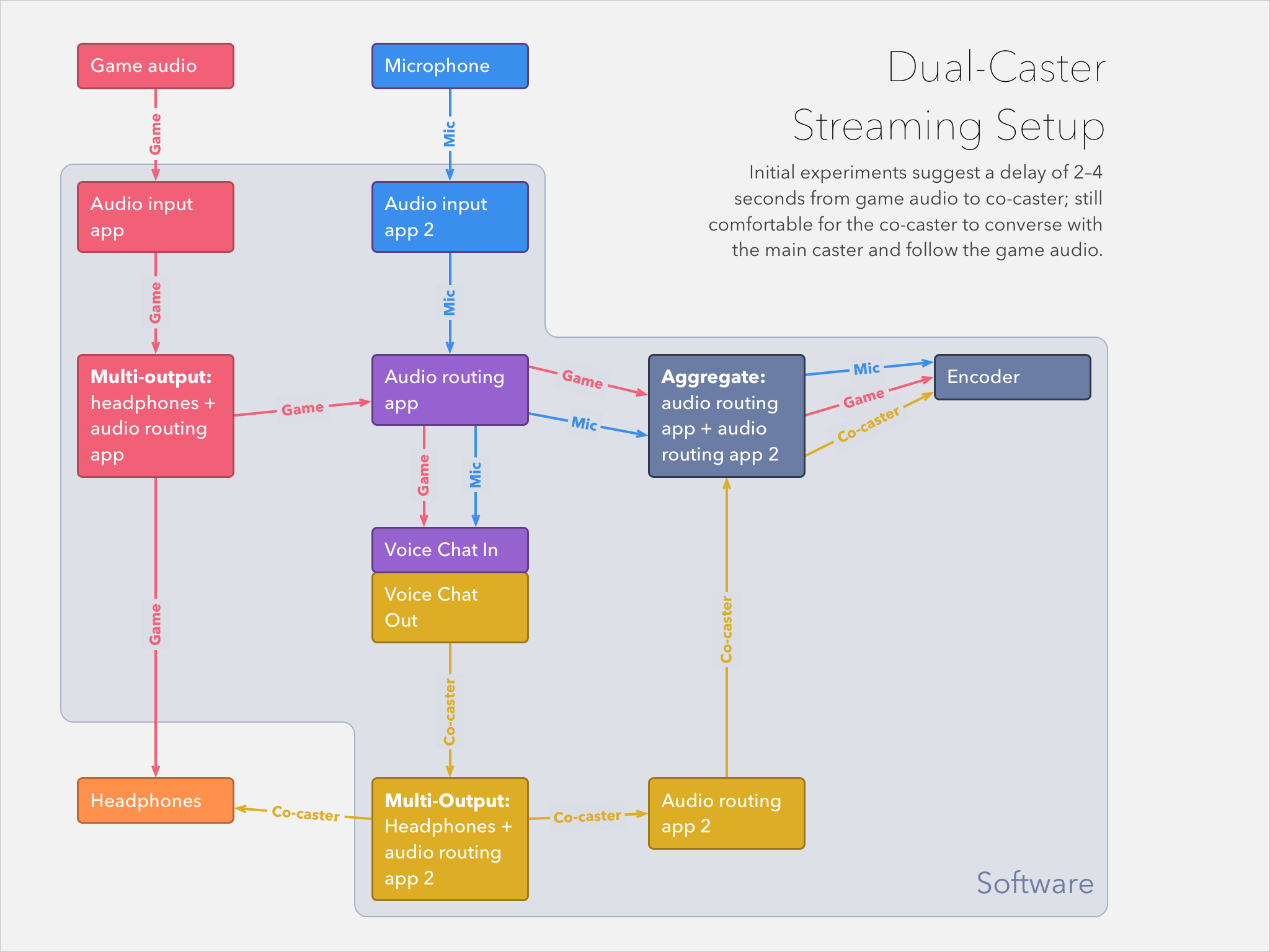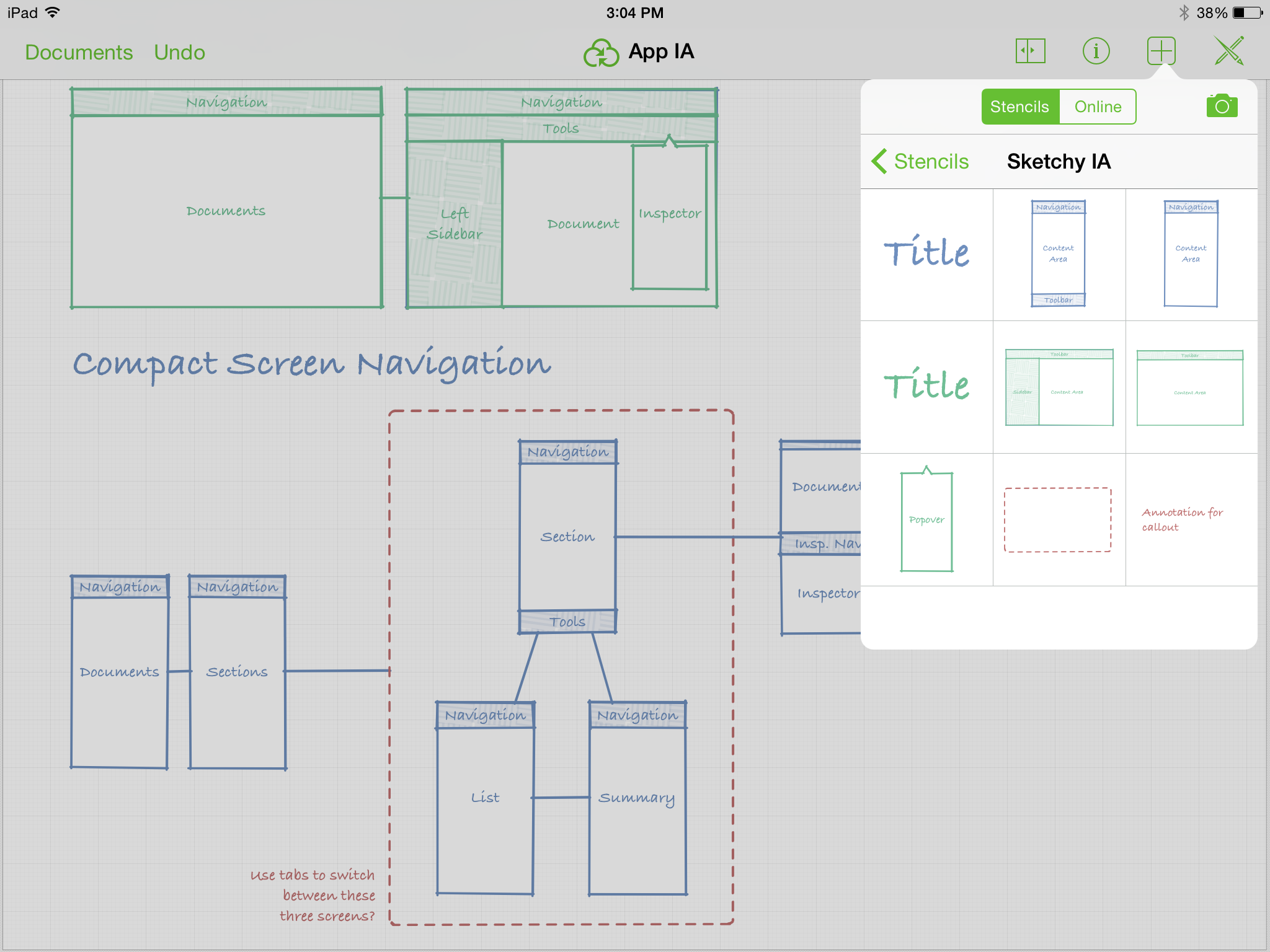 As part of this work we've introduced a new style system to make it easier to set and apply visual styles based on favorite settings or matching the styles of other objects which are already on the canvas. There's a new full-screen mode which lets you hide the interface controls completely—great for presentations or any other time you want to focus on your own work rather than the app's controls. You can easily search for stencils shared by the community at our free online Stenciltown repository, or you can create your own stencils—using the built-in drawing tools to draw freehand shapes, or manipulating individual vertex points and handles to create Bézier curves: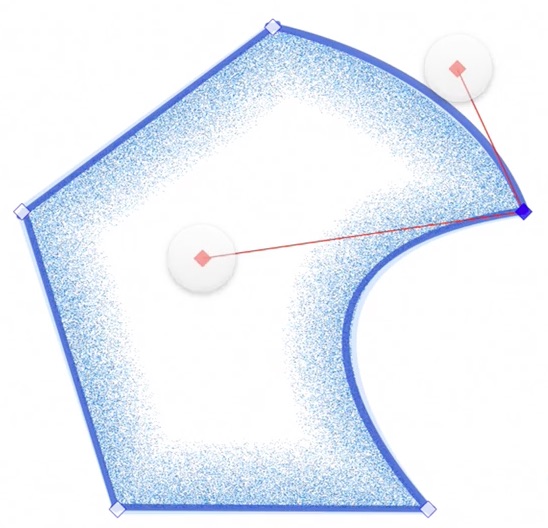 For those of you with lots of documents, we've significantly improved document management. All of your documents can be synced with the cloud as in version 1, but now you can also organize them into folders, filter by type, and search by name. With document templates, it's easier than ever to hit the ground running on a new project—and your templates also sync with the cloud, which means you can easily share them with the rest of your team.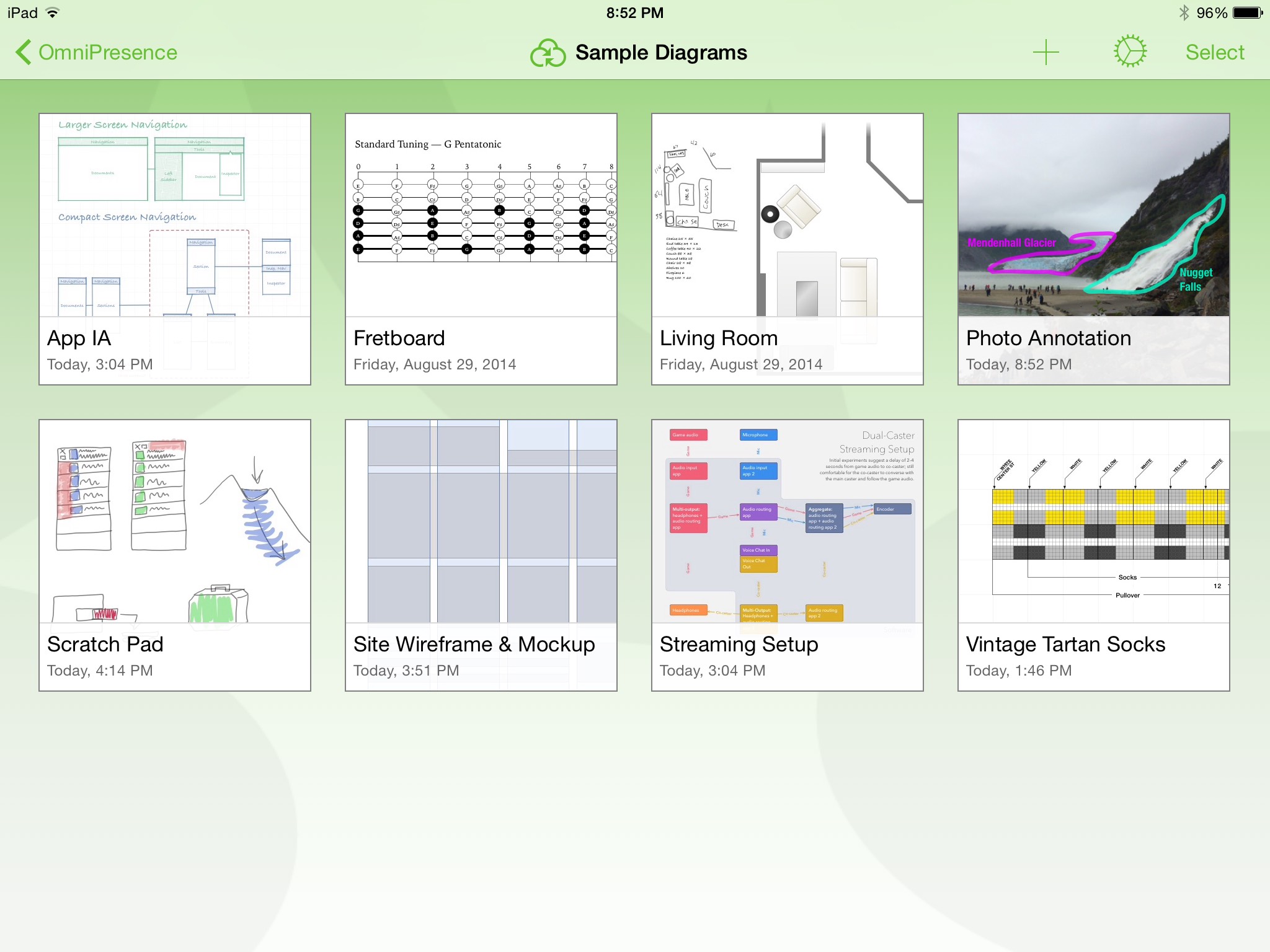 With all of the above, we think OmniGraffle 2 is an incredibly strong upgrade. But we didn't stop there! OmniGraffle 2 also has an optional Pro upgrade which brings many professional features that were previously only available in our Mac app:
Microsoft® Visio® import/export: Collaborate with Microsoft Windows® users. OmniGraffle Pro imports the following Visio file types: Drawing files (.vsd, .vdx, and .vsdx), Templates (.vst, .vtx, and .vstx), and Stencils (.vss, .vsx, and .vssx). OmniGraffle Pro exports your drawings in .vdx format, which can be opened by Visio 2013 and earlier.
Shape Combinations: Combine two or more objects on the Canvas to create custom shapes. Don't like the combination you've made? That's okay; you can also uncombine objects to restore them to their former selves.
Shared Layers: Share layers with multiple canvases in the same OmniGraffle document.
Tables: Merge two or more objects to create a table, and then resize the table to add additional rows or columns to suit your needs.
Custom Data: Assign names, add descriptive details and notes, and add custom key-value data to every single object on the canvas—or to the canvas itself.
Whether you choose the Pro upgrade or not, we think OmniGraffle 2 is an incredible upgrade—and we're glad to finally be able to share it with all of you! OmniGraffle 2 is now available for $49.99, and its Pro upgrade is now available as an in-app purchase for an additional $49.99.
Now, for those of you who invested in the first version of OmniGraffle for iPad, I have some great news! We really appreciate the investment you made in our new app on a new platform (which shipped the day the iPad launched!), and we've decided to show you our appreciation in a very concrete way by giving you the $49.99 Pro upgrade for free when you purchase version 2. We hope you enjoy all of the powerful features we've added to OmniGraffle 2, and we thank you for your continuing support!
Posted by Ken Case on 17 September 2014 | 12:50 am
It's hard to believe that it's only been three months since Apple's Worldwide Developers Conference. We had just finished shipping OmniFocus 2.0 for Mac—a huge release for us—and suddenly we were on the receiving end of a firehose of information from Apple about iOS 8 and Yosemite and Swift. All three were incredibly exciting, but the one which would immediately change our app development was iOS 8.
With iOS 8, Apple gave us new ways to interact with the operating system and with other apps. For the first time ever, we could provide extensions which could run inside other apps. We could add Today extensions to Notification Center. We could build new Sharing options to easily capture content shared by other apps. We could share documents between apps without making extra copies that get out of date. And even in places where our code wasn't running, we now had more flexibility—like the ability to provide interactive notifications with multiple choices. All that and much more. Far more than we had time to adopt in one summer—particularly since we also had two major app upgrades to ship for iPad: OmniFocus 2 and OmniGraffle 2.
Fast forward a few (very busy!) months, and iOS 8 is finally right around the corner—and the iPad and iPhone editions of OmniFocus 2 are both ready with two great new extensions. The new OmniFocus Sharing extension will let you capture content from Safari and other apps, and with the new OmniFocus Today extension it's easier than ever to get a grip on your day's commitments: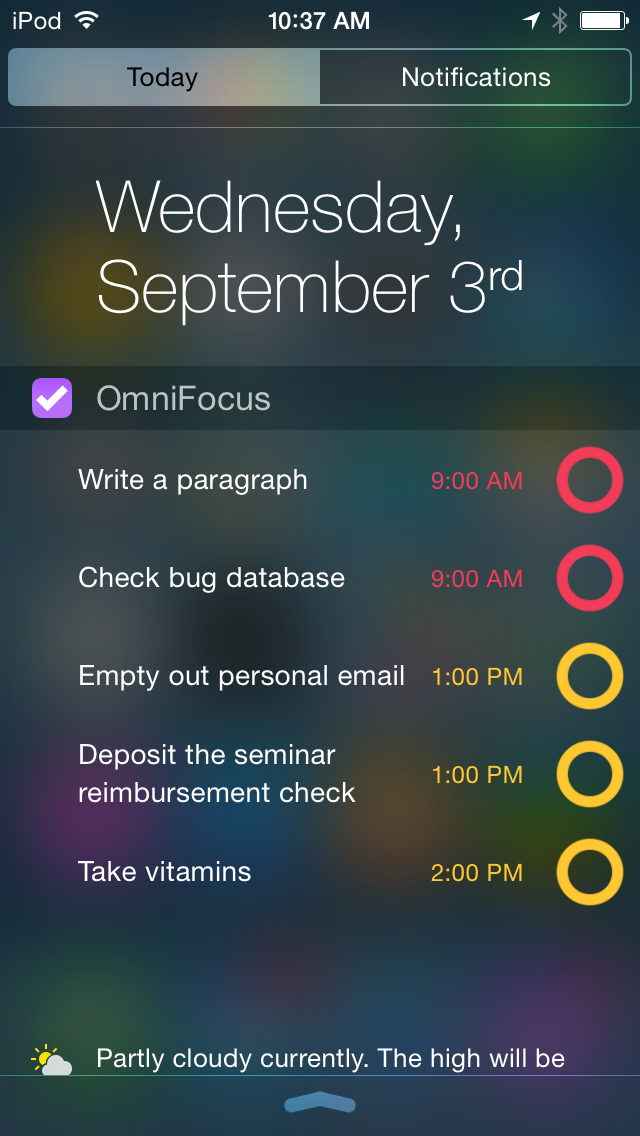 These new extensions are just a taste of what's now possible with iOS 8. I'm looking forward to doing even more with extensions in our apps—and I'm also looking forward to seeing what other developers have been cooking up over the summer!
Posted by Ken Case on 17 September 2014 | 12:32 am
One of the wonderful things about OmniGraffle is that it's incredibly easy to build stencils: you just take any content that you might put in a normal document, create a new stencil document, and add that content to it.
It's also very easy to download stencils from the Internet: you can go to a website and download a stencil (like Twitter Bootstrap 3.0 from Viget), open that stencil in OmniGraffle and you're good to go.
But you could only download those stencils if you knew where to find them, and unfortunately they're scattered across the web.
Enter Stenciltown: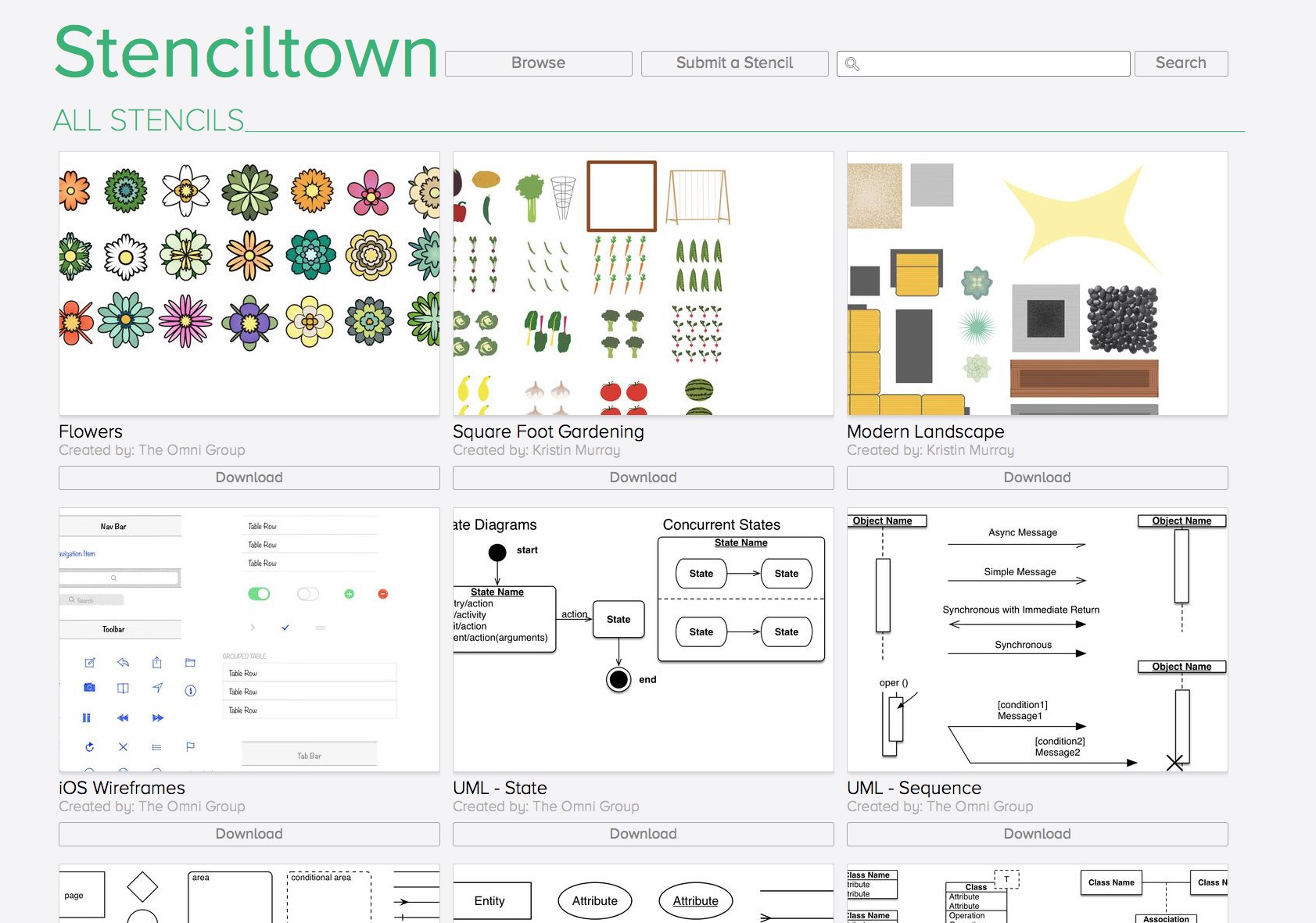 Stenciltown makes it easy to find free OmniGraffle stencils which have been shared by the community. You can browse and search the collection through its web interface, and once you've found a stencil you'd like to use it's as easy as ever to download and use.
You can also search Stenciltown from within OmniGraffle itself, both on Mac and iPad:

We think being able to search for community stencils within the app is important; it lets people who are using the app find what they're looking for right away (and it helps new customers find stencils even when they haven't yet heard of Stenciltown).
If you have a stencil you'd like to share with the rest of the OmniGraffle community, you'll find the option to "Submit a Stencil" at the top of the page. You'll need to provide the stencil file, a preview image, and some basic details about the stencil. After a short review process, your stencil will become freely available to all of the OmniGraffle community, both in OmniGraffle itself and through the Stenciltown website.
We look forward to seeing you in Stenciltown!
Posted by Ken Case on 12 September 2014 | 12:13 pm